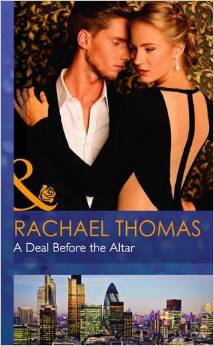 My stories often start with an image in my mind, as if I've put a film on pause and that's just how Georgina and Santos were created in A Deal Before the Altar. There she Gerogina, all fire and determination, standing tall and proud in Santos's office, telling him in no uncertain terms that she'd do whatever it took. His reaction was cool and calculated, calm to the point of icy indifference, but one thing was certain. I had to know what she'd do anything for and why.
Not only was this the story from my heart, the one I just had to write. It was also the story I entered into Harlequin's So You Think You Can Write competition last year. I still can't believe all that has happened since I put my first chapter on the website, but I'm really excited to finally be able to hold my first book.
"I have a deal to put to you, Mr. Ramirez."
Georgina Henshaw will do anything to ensure her younger sister's happiness—even marry the darkly enigmatic Santos Ramirez! She has just one condition—she'll wear his ring, but she'll never share his bed!
Santos has earned his ruthless reputation, but even he isn't sure whether to be shocked or awed by Ms. Henshaw's proposal. He can't deny marriage would solve his current problem, but to truly secure his family business, the delectable Georgina must provide him with an heir….!